We got a tip from the locals for the trek to Mount Hornelen. We have no idea how this is working but during our expedition To Gibraltar through Nordkapp it was always worth it to follow the tips and recommendations of the locals. We therefore recommend you as well to get in touch with the locals and not to be afraid of trying out everything they recommend.
Hornelen – basic information
Hornelen is the Europe's highest sea cliff. With its height of 860 meters above the sea level it used to be an important landmark for naval navigation for centuries. There are two routes leading to its summit. The route starting from Hunskår is shorter (7-8 hours), it is more demanding though. If you start your trek to Mount Hornelen from Berleneset, it will be longer (8-10 hours). The terrain will not be that steep however. The route is marked. A good advice – have enough water with you. Especially, if you set off on a sunny August day.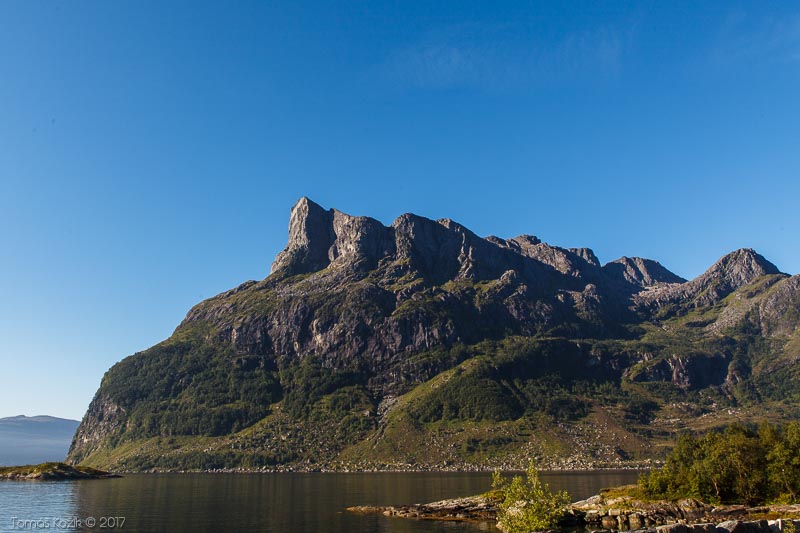 Mount the Mount Hornelen!
Our plan was to set off as early as possible. We were anyway late by an hour in comparison with the plan. The reason was two ticks I found attached to different parts of my body. We were therefore able to set off only after we succeeded to detach them.
From the two routes mentioned above we decided for the shorter but more demanding one. It starts behind a small church and a cemetery in the Hunskår village. The first part of the trek was very steep and quite muddy. We had to cross a couple of tiny mountain streams as well. The views were however exclusive right from the beginning.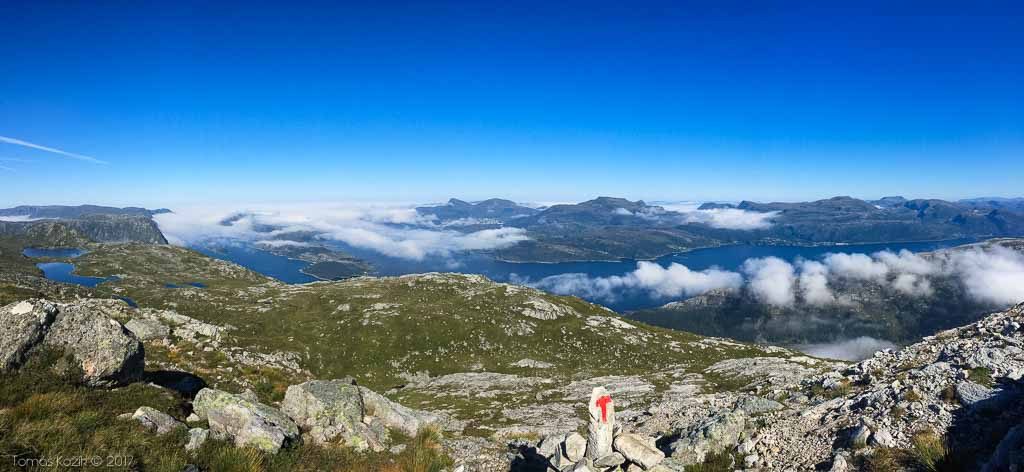 Our untrained bodies fought with the first part of the trek quite long. It took us about two hours to get up the steep hill. After that we passed by beautiful mountain lakes.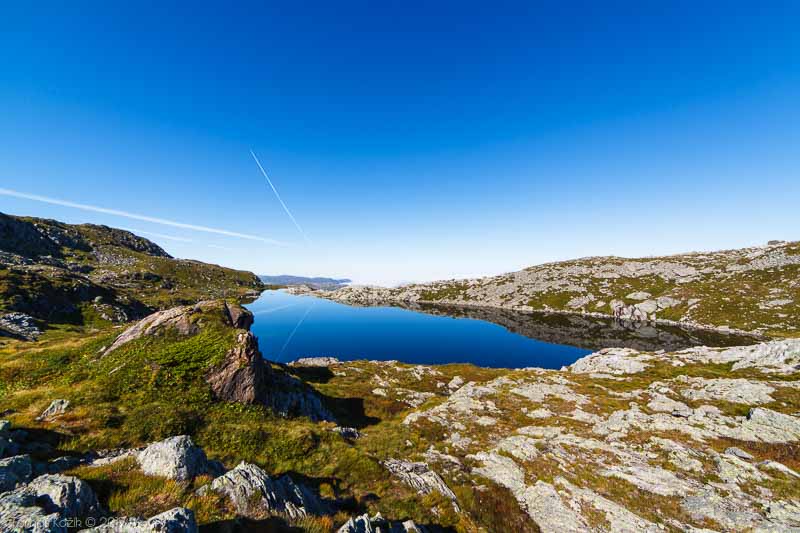 A short break and then we again climbed the cragged wall. There were spots where we rather did not think on how we were going to climb it on the way back. Fortunately, there was a tableland ahead after this second ascend. It was nice to walk up there although the terrain was rocky. Unexpectedly, it was even necessary to descend. Among the huge rocks we proceeded to a spacious rocky wold. On its other side the last ascending before the summit awaited us.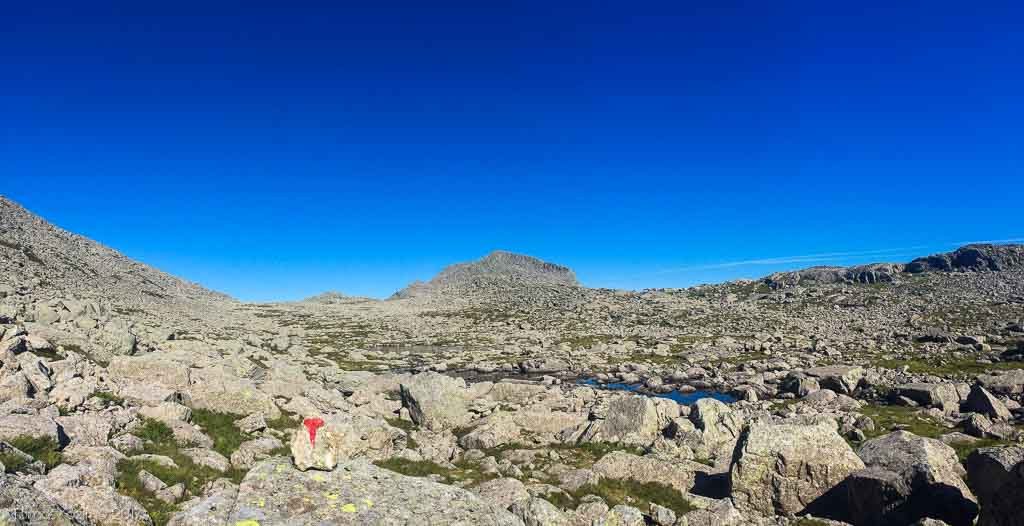 There was an unpleasant surprise during the way up. It was caused by an old gentleman. He was a local who got a brilliant idea to run up the Mount Hornelen on this beautiful sunny day. Literally. As we were crossing the rocky mold suddenly I noticed that there was someone quickly approaching us from the back. We agreed to speed up. We were already fed up by being overtaken regularly during our treks in Norway. Our effort was anyway useless. After a short while the gramp passed us by. It took just another while to lose him from our sight completely. It was bitter but we kept on walking. As we were still on our way to the summit, a bit closer though, we noticed the old man being already on his way back. We gave up. We stopped him in order to find out how old he was. 72. We made him at least to take a picture with us. He was willing to stop just for a couple of seconds and then he was already jogging away. We were convinced that by the time we were going to reach the summit finally, this gramp was going to have a cup of coffee back at home.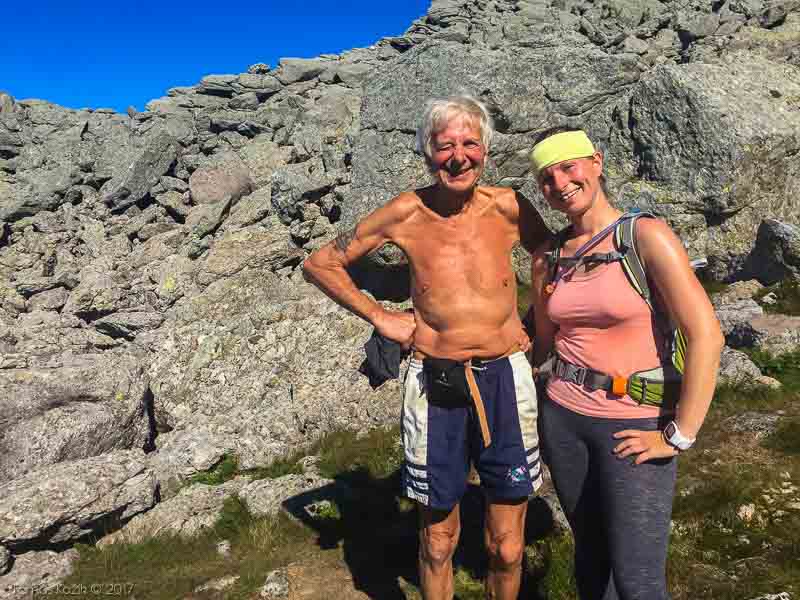 Fortunately, after the last ascend we reached the summit too.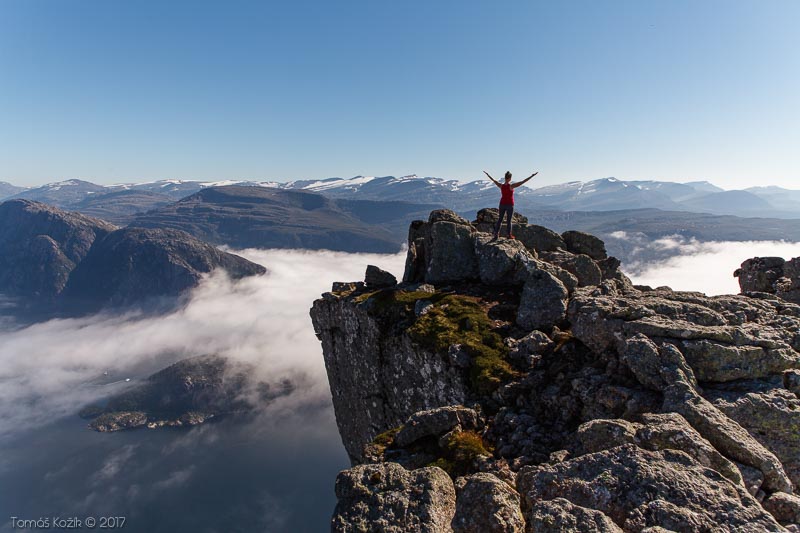 It was only us and a local guy up there. He gave us a useful tip on a spot where it was possible to look down on the sea surface from the height of 860 meters. We moved there and had a lunch finally. We were hungry, sweaty and exhausted and so we did not mind the hot sun above our heads. By the time we finished our lunch fog covered the view of the sea surface completely. Tomáš had anyway nothing against it. Although he is generally not afraid of heights, on places like this he usually is afraid of falling down.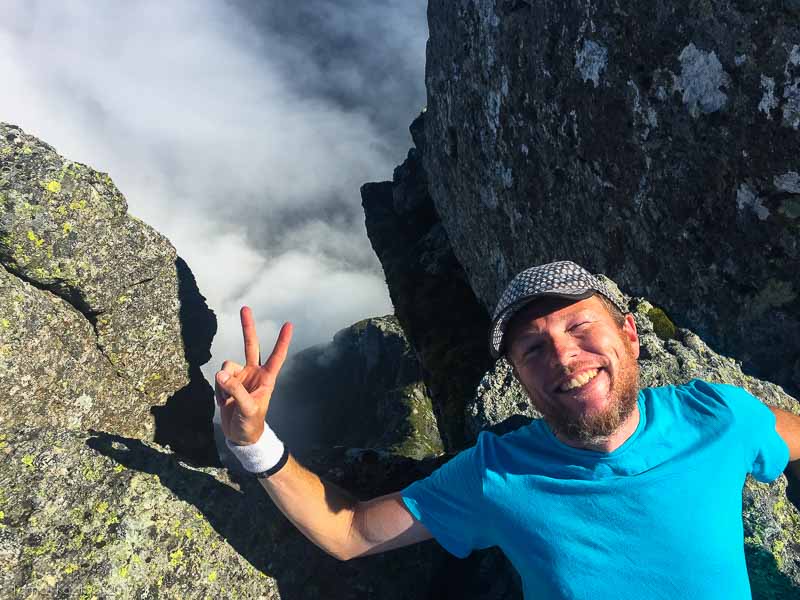 We enjoyed the views from the top. We knew we could see the parking place where we fought against the ticks in the morning. We were however so high that we were not able to see whether there are cars or not. Huge freight ships seemed smaller than a box of matches to us.

The way back was marked by the lack of water. We ran out of water supply at the summit. So there were no rest-overs for the way back. We enjoyed the 4-hour-trek under the hot sun accordingly.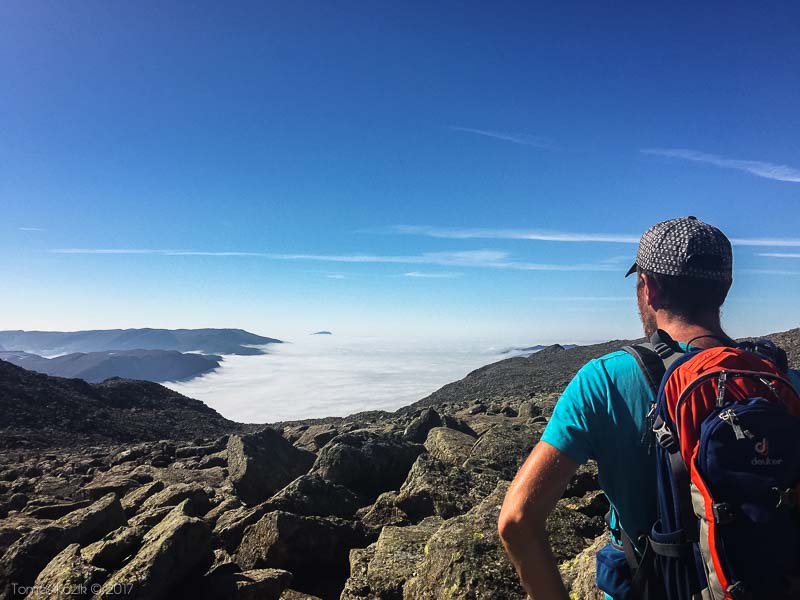 Although we passed by a couple of lakes we did not dare to drink the dead water. After three hours we finally got to the level where everything was covered with fog.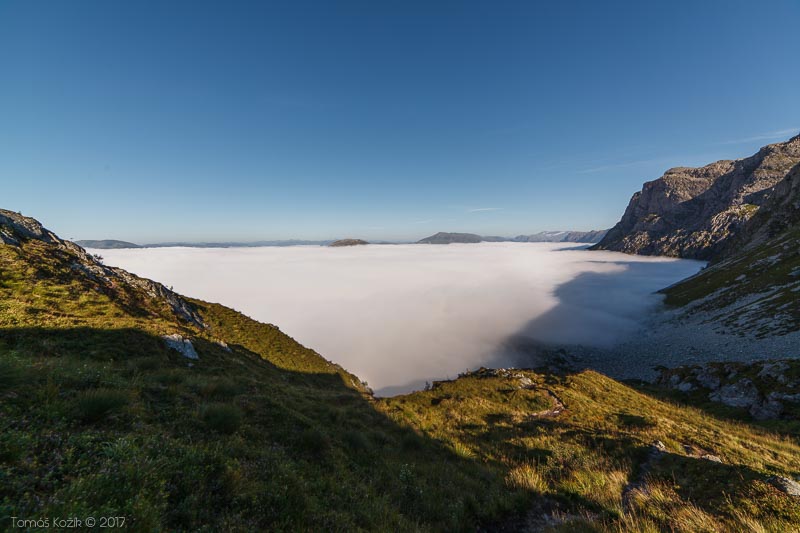 To descend to the fog was similar to sinking under the water. As if we were approaching a completely different world. At least, there was no more hot sun here. And we felt as if we were able to absorb the humidity with every single pore.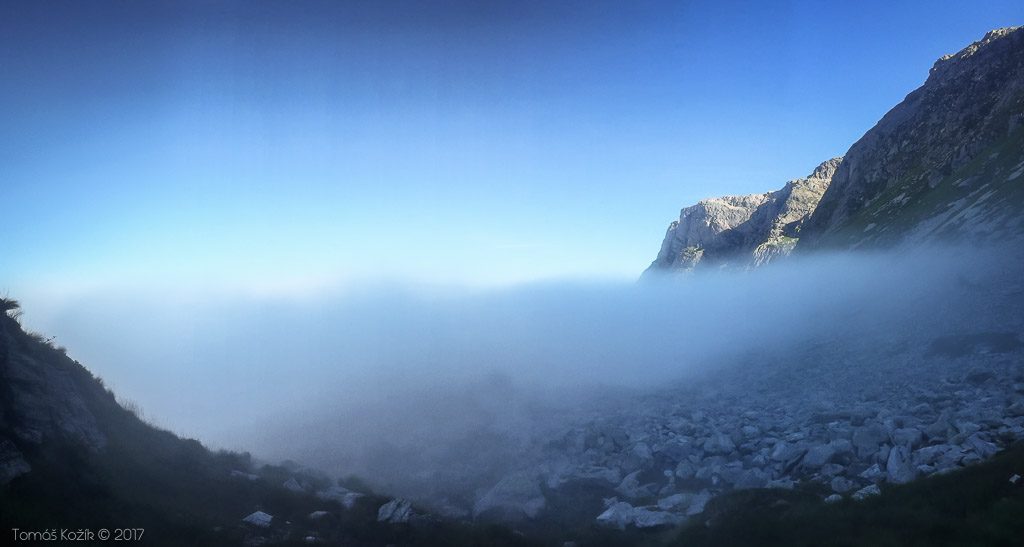 We came back to our car quite exhausted. Apart from the physical load I experienced a couple of falls as well. I assume the exhaustion weakens not only the muscles but the concentration as well. We were anyway happy we made it. The summit experience was definitely worth it.
We add a map tracking our route as well. Although the cliff itself is only 860 meters tall we had to climb more than 1700 meters in order to get there.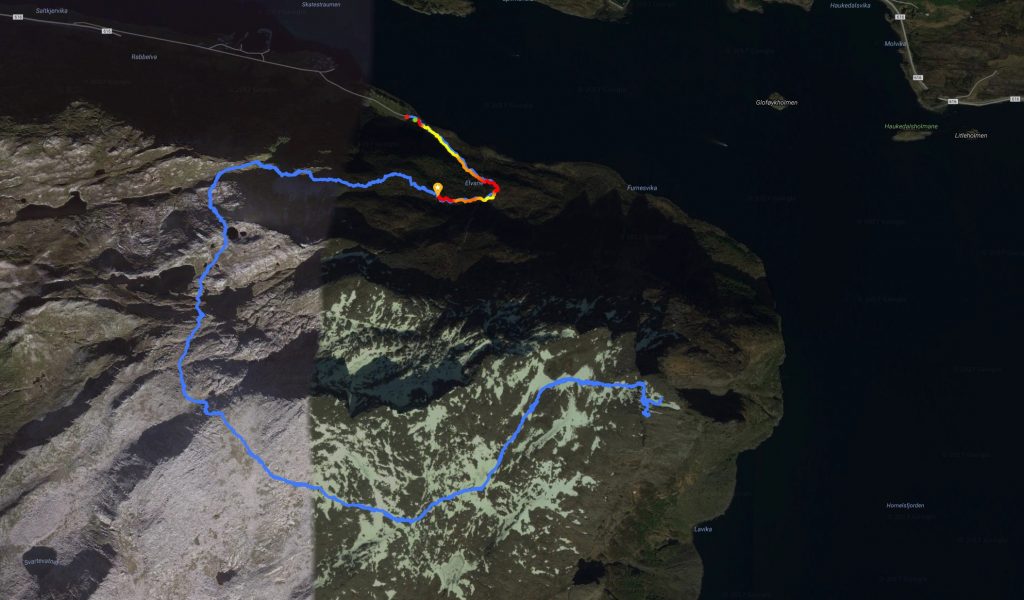 Right after this tiring trek and despite the inversion weather we set off to Vestkapp – the westernmost point of Norway. Our extraordinary experience of Vestakapp is described in our article Vestkapp – no way to get more western in Norway.