What was your Christmas like? And how did you celebrate the New Year's Eve? We did very internationally. During the Christmas, we hosted our friends from Russia and the last day of the year 2017 we spent with our friends from Latvia. Thanks to this experience we realized one important thing and we have decided to share it with you as well: to stay at home is in fact also a part of travelling.
In order to get to know new cultures you do not even have to leave your home. Quite in opposite. You should stay at home in order to get properly prepared for receiving guests from near and far. On the other hand, it is very unlikely that somebody pays you a visit if you had not visited anybody before. But let's keep this simple and organized.
Slovak-Russian Christmas exchange
The last New Year's Eve we celebrated in the freezing Moscow. At that time, we have agreed with our hosts that we will repeat such event/action. And so, after a year we met again– to celebrate the Christmas in Slovakia. When I say "we", I mean Tomas and me – representatives of Slovakia – and our three Russian friends Inna, Sasha and Nikita (btw., Nikita is a male name in Russia). We prepared a rich cultural program for our guests. Of course, we wanted to show them as much as possible of everything what we naturally consider to be part of Christmas.
And so, we visited the Christmas market and tasted "Ciganska" and other specialties, we had traditional Christmas Eve's dinner with "kapustnica" (a cabbage soup), carp and "opekance" (a traditional Christmas food made of dough and served as a sweet dish with poppy seeds and honey or as a solty dish with cheese).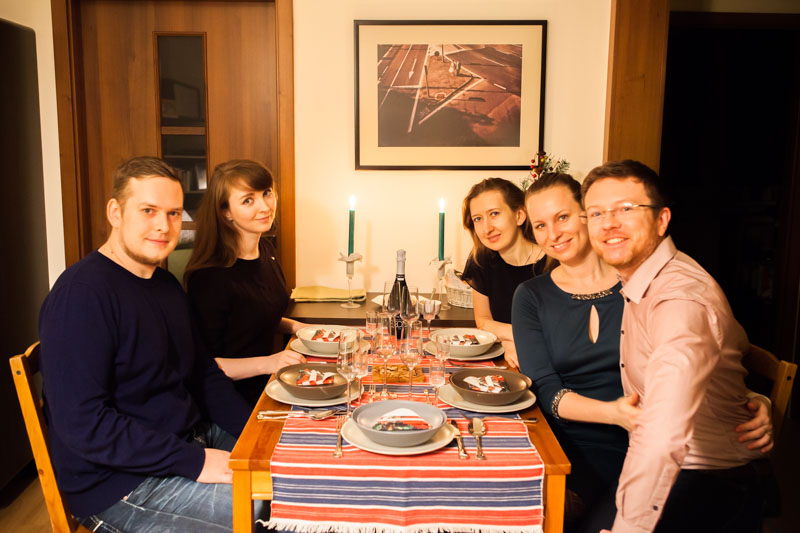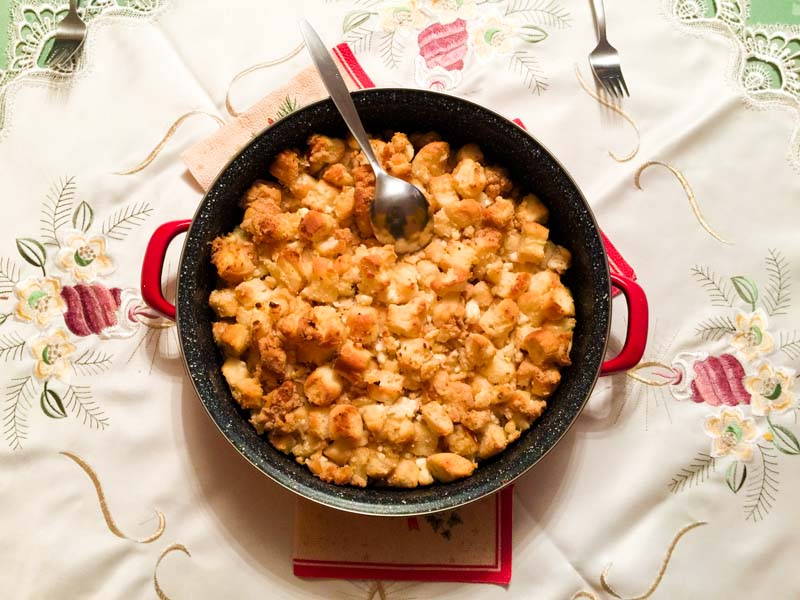 And we opened the gifts underneath the Christmas tree.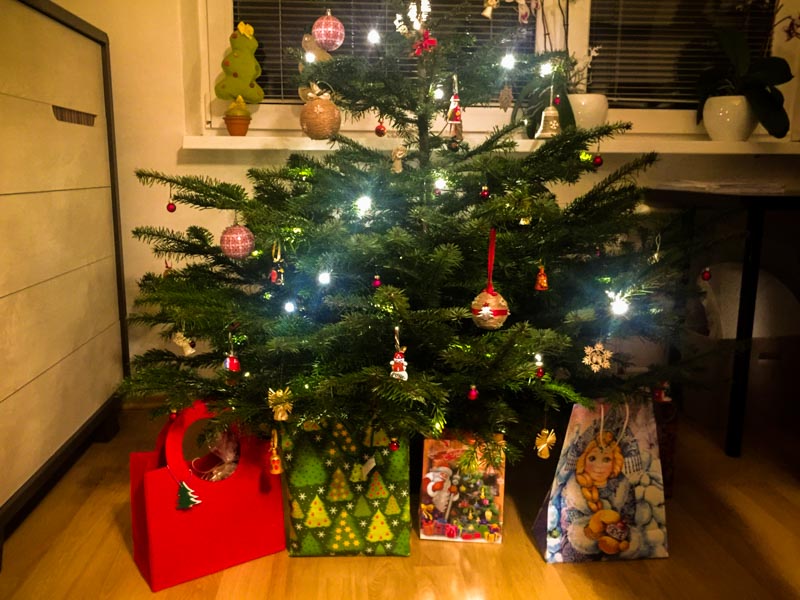 Christmas is in Slovakia considered to be a family holiday and so we visited our parents as well. Since the parents of Tomas live near High Tatra and my parents near the boarder with Hungary, we had quite a sightseeing tour across Slovakia.
We made a stop in Vlkolinec.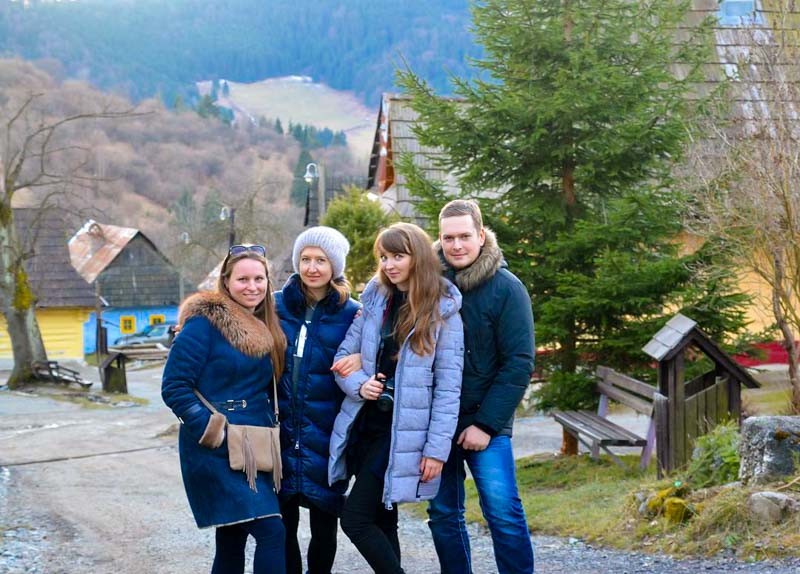 We took a lift to Skalnate pleso (High Tatras).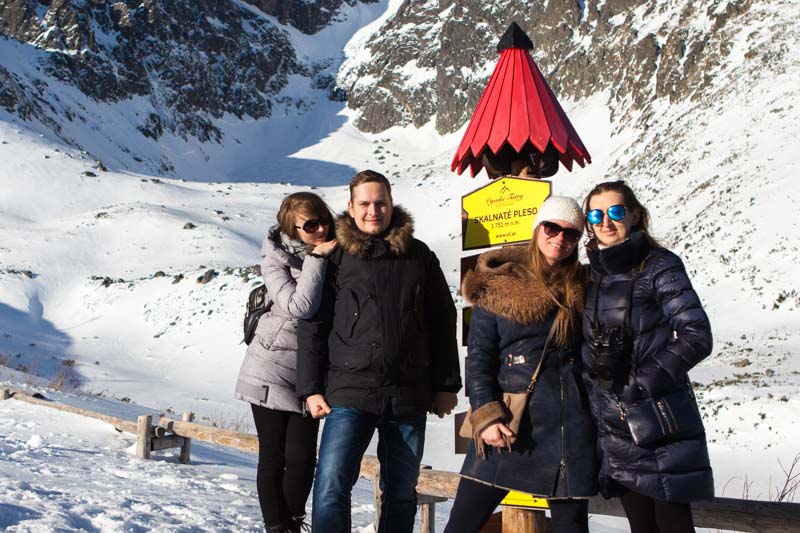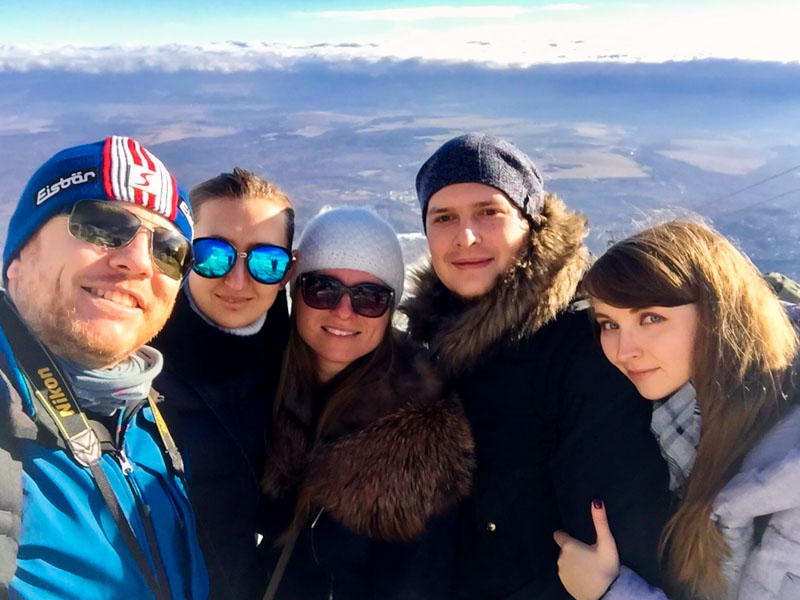 We made a walk to Hrebienok (Hight Tatras) in order to see the ice basilica.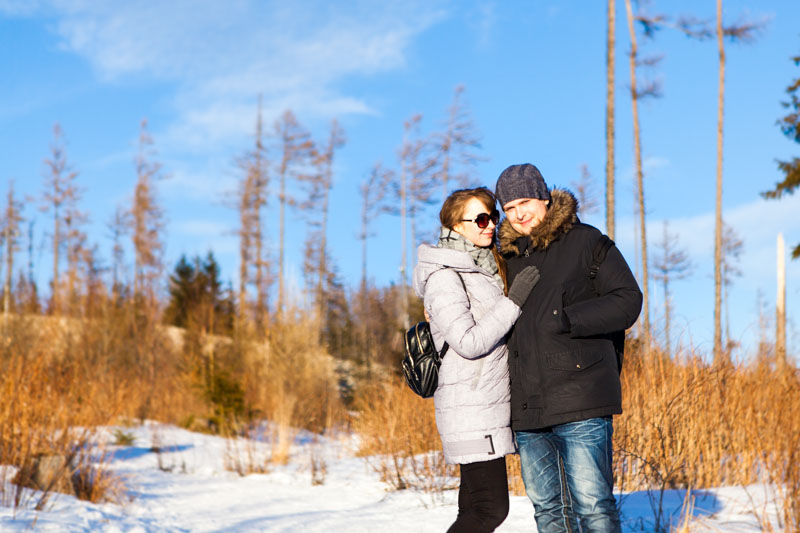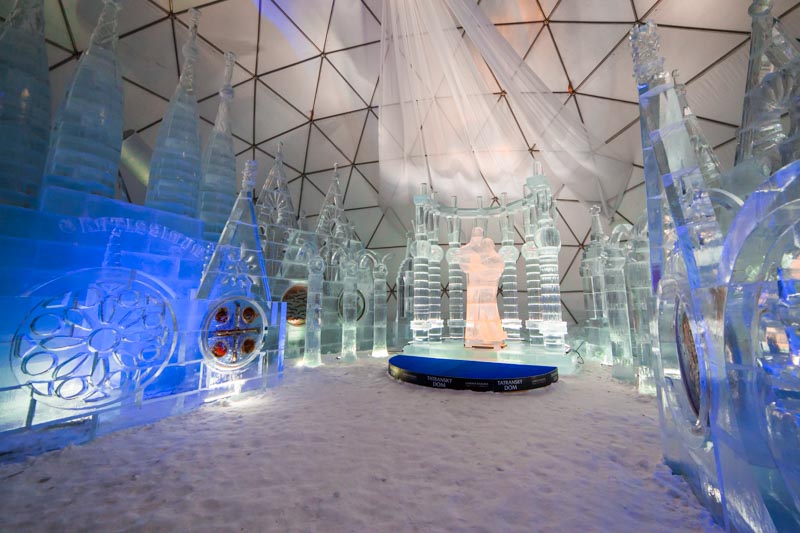 But also observed the country life in a small provincial village.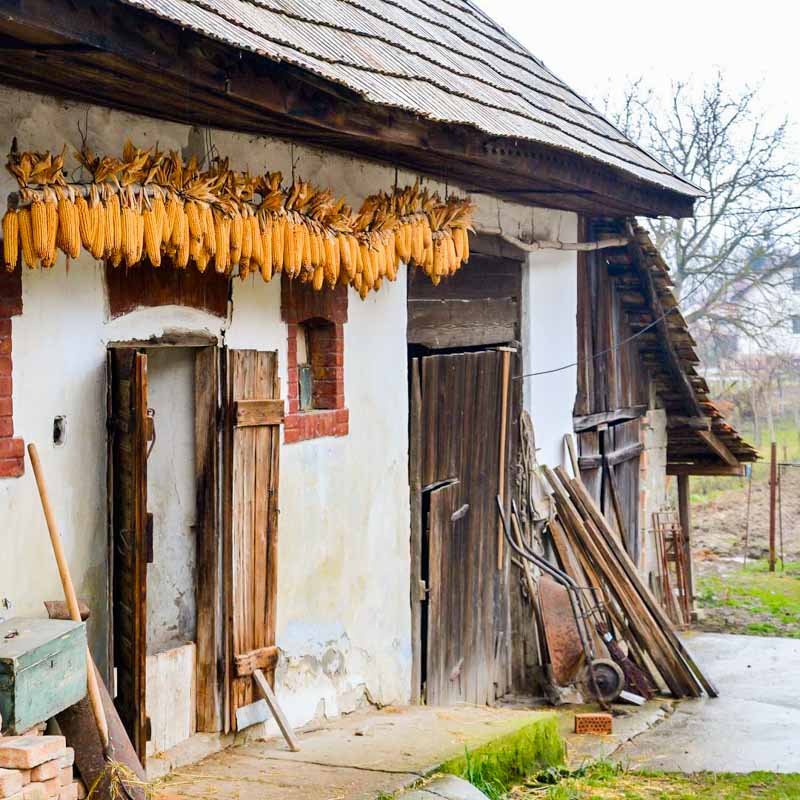 And this is where we need to make a short stop in order to underline the lesson learnt we made: it is your friends from abroad who can provide you with a completely new and very precious point of view on things you consider ordinary or take for granted. Never before we perceived a small village in the distant corner of our country as a romantic place to live, with nice houses and well-tended gardens. Never before we realized that the drinking tap water we take for granted is in fact a luxury. Never before we noticed that we feel safe to such extent that we leave the key inside the lock from outside the whole day long or that we sleep at night without even locking the entrance door. And there was this news on the radio saying that the Austrians are so consequent in waste sorting that only 4% of their waste ends up on dumps and in Norway it is even 0%. In comparison to these nations our 60% of waste ending up on dumps seems as a disaster. However, not in comparison to the Russians whose rate is 100%.
And these were only a couple of situations that make it worth to have contacts and friends abroad. Such friendships can enrich our lives in completely unexpected ways. Our friends from abroad can provide us with a new view point of our own country as well as of ourselves. What we do with this feedback depends completely on us.
A New Year's celebration in an unexpected setup
On the 29th December 2017, our Russian friends returned back home in order to make it for the New Year's Eve celebration that is for them as important as it is for us to celebrate the Christmas at home together with our families. On the very same day we received a message from the Latvians we got to know during our expedition To Gibraltar through Nordkapp. They asked about our plans for the New Year's Eve. It turned out that they are able of even more crazy journeys than Vista Travellers. They woke up in the morning of the 29th December and after two hours they had been already sitting in their car heading to Slovakia. It took them 17 hours to get from Riga to Bratislava and as soon as they were here the party could begin.
Also for them we prepared at least a small degustation of what Bratislava and the Slovak Christmas cuisine offer.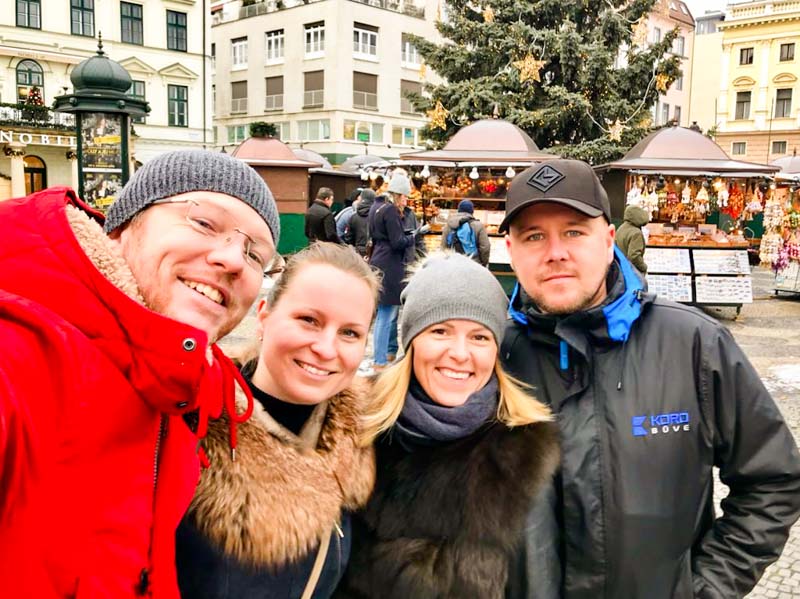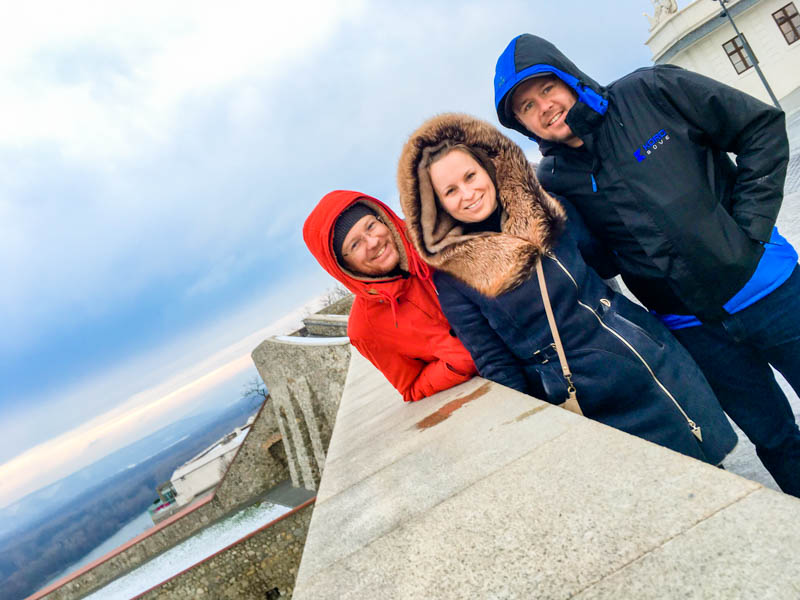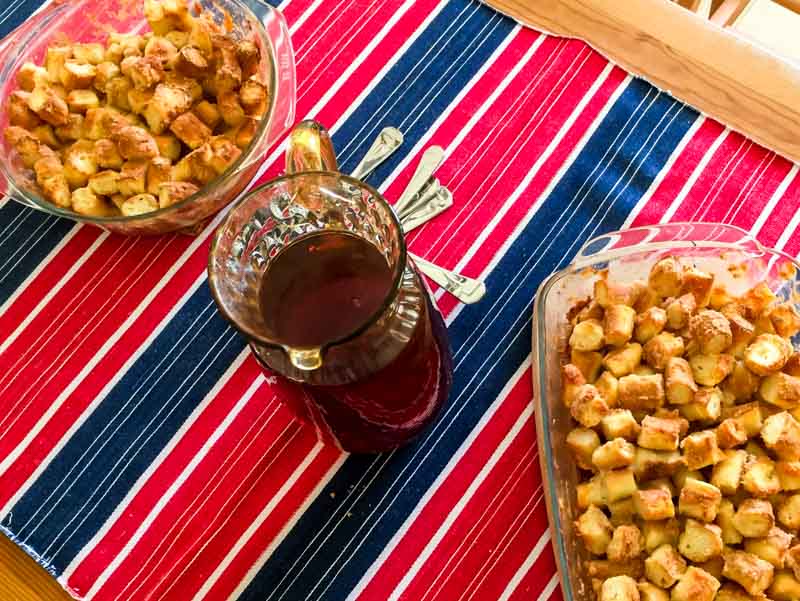 However, they were most impressed by people. In the last night of 2017 they were invited to an unusual party. It took place on the street of one of Bratislava's satellites. The neighbors who prepared some refreshments and grog welcomed the two strangers and probably thanks to the grog overcame the language barriers very quickly. At midnight, we were saying wishes to each other as old friends: good health, good life and good luck.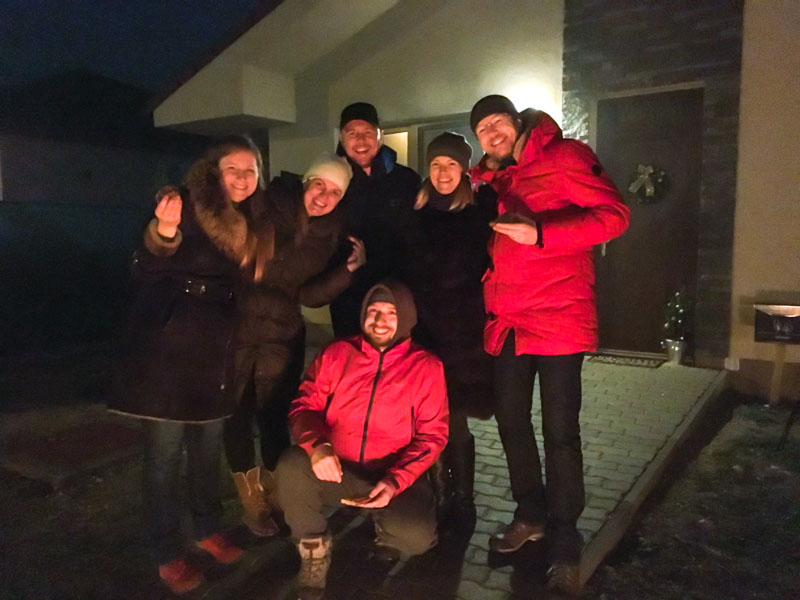 We agreed with our Latvians Renars and Justina that both our countries are very similar and so are their inhabitants. Anyway, such hospitability, friendliness and responsiveness they considered to be extraordinary.
And what's the moral of the story?
Thanks to this experience we came to the conclusion that it is a great feeling when our guests are leaving with a very good impression of our country and a positive experience with the people. When they could experience something extraordinary what they will forever remember. When they found here something worth to copy or follow. These are the moments that make you pride of our country and of our nation.
Anyway, let's be honest. Not everything in our country is so amazing. There are things that work worse in comparison to other countries or do not work at all. We can realize that again thanks to the visits from abroad and so we can try to improve it or to change it.
If you plan to travel somewhere abroad in the near future try to come back with new contacts, friendships and develop them by paying back the hospitability. Believe me, you will get more than give.