We visited Baikal Lake in 2013. The time we spent in this corner was limited since we both worked at that time and we used our days off in order to travel. We lacked information when getting prepared for this trip. We read a couple of travel books and gained just limited information on the web. We therefore did not risk at all and planned and booked everything in advance.
Our trip to Baikal Lake started and finished in Irkutsk. We used various means of transport – marshrootka, UAZ van, boat as well as ferry and full-powered motor vessel. Anyway, let's start from the beginning.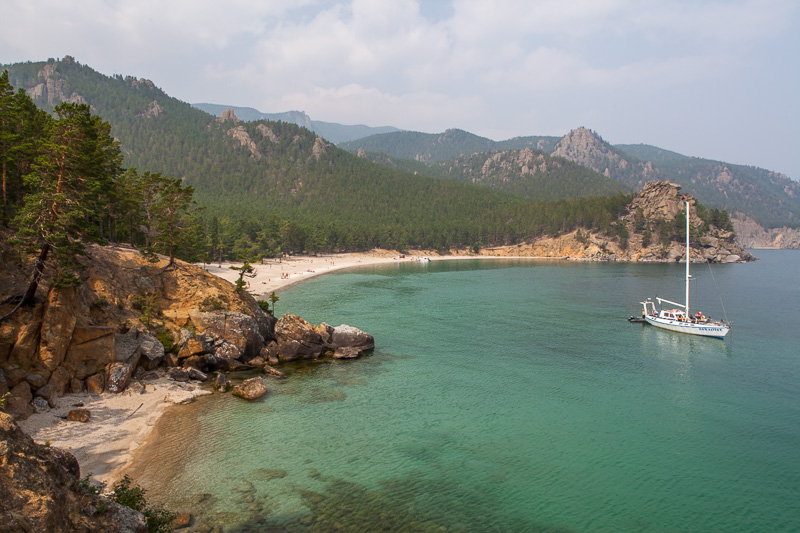 Our way to the Olkhon Island
We set off at 9 o'clock from Irkutsk. The first mean of transport we used was marshrootka. Marshrootka is a typical Russian public transportation vehicle. In fact, it is a van modified to transport as big number of passengers as possible. In the one we used it was number 14. When we met our driver he was at first excited that he would have people from such a distance in his vehicle. He tried to guess where we were from. His first tip was France, second Germany. This is exactly that moment when you realize that no matter how different we are in our own perception in terms of Europe, for people living on other continents we all are anyway just the Europeans. Although we had an exotic look and original language it was of no help when the seats in marshrootka were distributed. The best ones got the locals. And so we had about 6-hour-drive in quite restricted conditions ahead.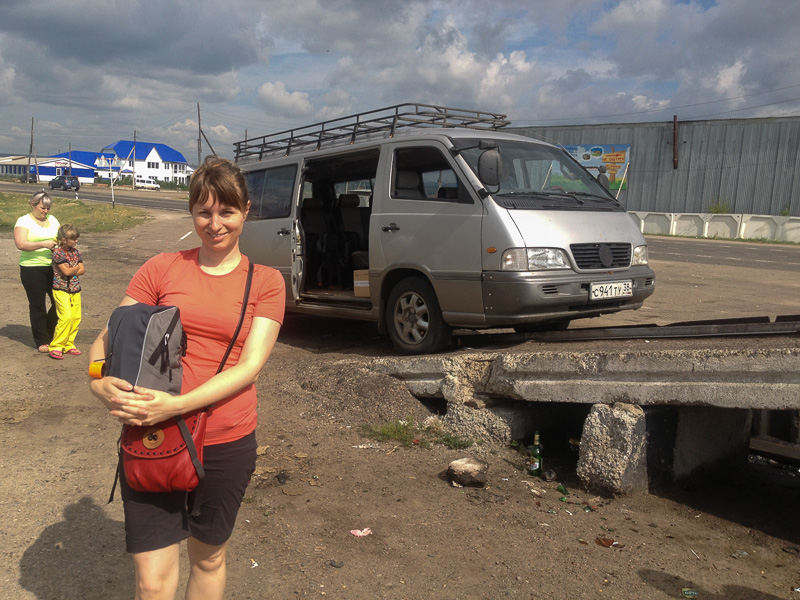 Surprisingly, the 6 hours elapsed quite quickly. The landscapes visible from marshrootka's windows changed very often. Flat land with pastures, herds of horses, cows and sheep, then mountains and dense forest. After another while we drove through a valley surrounded by hills covered by clumps and white stones.
We finally reached the spot, from which a ferry departs in direction to the Olkhon Island. Lucky us – we had to get out of marshrootka.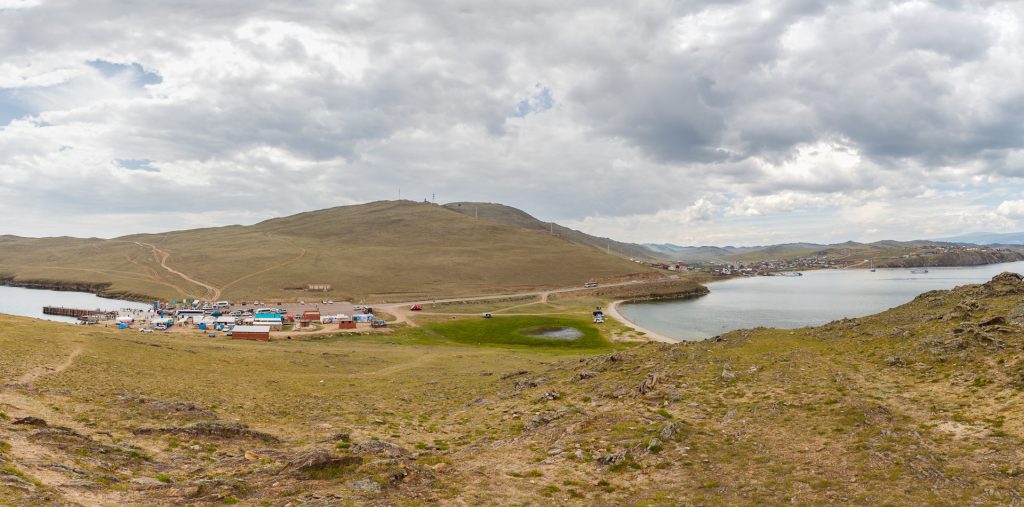 First the vehicles were onboarded, then the passengers. After a short while a wrathful voice shouted from the loudspeakers at all poor passengers: "You bastards, are you fucking kidding me?! Why have you all gone to one side of the board? Aren't you fucking afraid that we flip over?" An original customer communication indeed. When we asked our fellow passengers from marshrootka we got familiar with in the meantime why the crew had not coordinated the boarding in order to avoid such situation their answer left us speechless: "Because this is Russia!"
On the other bank we got back to our marshrootka and found out that it was actually an off-road.
Olchon Island
We followed the dusty road and reached Khuzhir after an hour. Khuzhir is the biggest settlement on the island. We got off the marshrootka in its center. That meant we stood in the centre of a dusty street called Baikalska – how unexpected. It was wide enough, so there was no reason for the locals to bother themselves with some kind of a parking policy.
We wanted to find the homestead where we had our accommodation booked. Since the Tourist Information Office was closed, we asked the shop assistants for help. We got a bit nervous when they told us they had never heard neither of such street nor of such homestead. We approached a group of young men standing next to UAZ vans parked right in the middle of the street. They at least knew the street. And the most agile of them immediately offered us a free ride. We would definitely not deny it if the guy had drunk a bit less before. We agreed only after they ensured us that another one who was sober would give us a lift.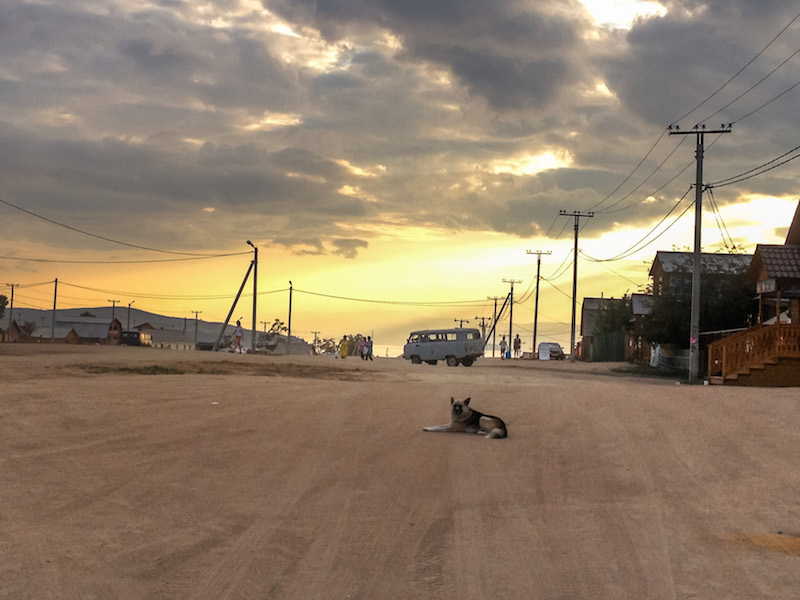 After we got accommodated we set off to explore the environment. We followed the second most important street called Pushkin's Street that lead us to the lake. We found a couple of beaches – sandy as well as with cobbles. Most of all however we got intrigued by the Mys Burchan – considered to be one of the 9 shrines of Asia.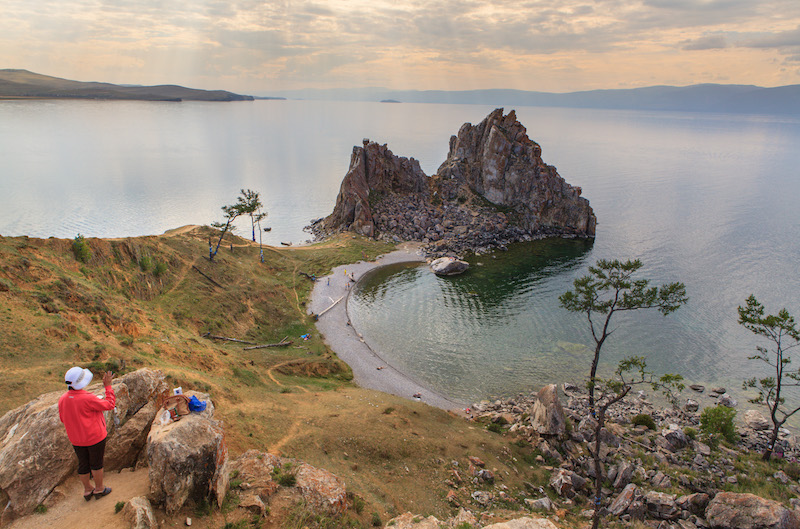 It is a sanctuary for Buryats who practise shamanism. They believe that the cave hidden in the marble reef called Shamanka is home of the highest spirit Khan-Khute baabay. The original island inhabitants respect this place and consider it hallowed. It is a final destination of numerous pilgrims. They arrive to pray as well as to perform rituals as can be seen on the picture above. In order to pray they write down their prayer on a piece of cloth and bind it to one of the columns placed here. They believe the wind will blow the words of their payers close to the ears of the spirits.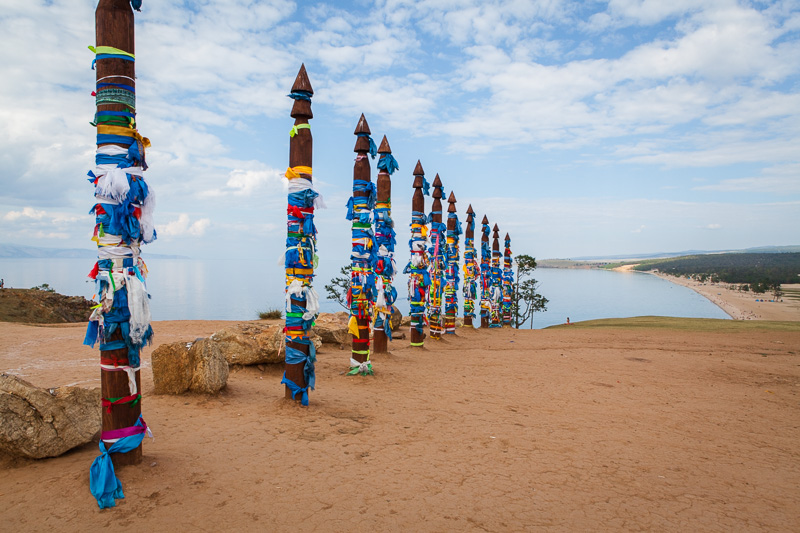 Olkhon Island is the biggest island of the Baikal Lake. Its nature is charming and its landscape very diverse. One can find here steppe, mountains, forests, sand dunes and marble stones. We saw all of that during our excursion to the northern-most point of the island – Mys Khoboy. We set off using one of the most common vehicle in Russia – "bukhanka". Our guide, driver and chef in one person was Kolya. In video you will see why is "bukhanka" so popular in this area (because it goes through any terrain!) and you will hear Kolya's voice at the end of the video.
Khoboy in Buryat language means a teeth or a fang. Well, the rock at the northern-most point of the island really reminded us of a fang.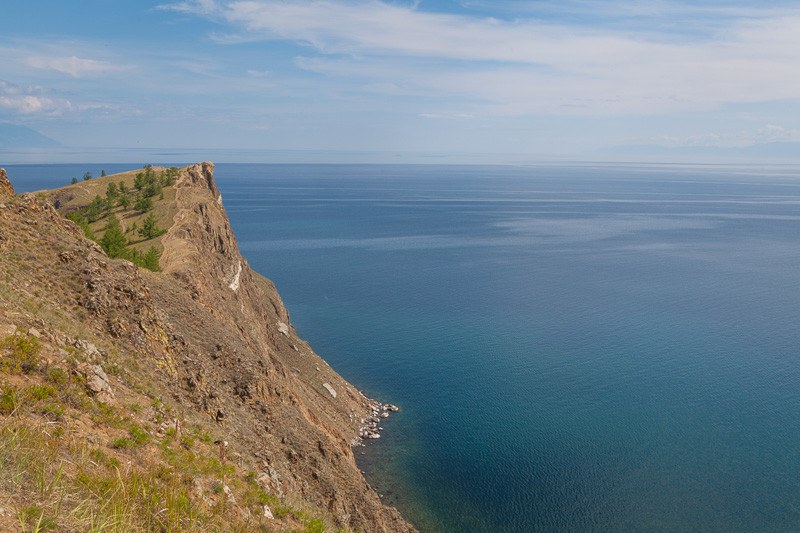 Moreover, the width of the lake in this area reaches its maximum, i.e. 79,5km. And so you can enjoy beautiful views from the top of the reef. To the right you can see the Svyatoy nos (Holy nose) peninsula. To the left you can see the mainland separated from the island by Maloye more (Small see). We were lucky enough to see also nerpa – the endemic seal that lives only in Baikal Lake.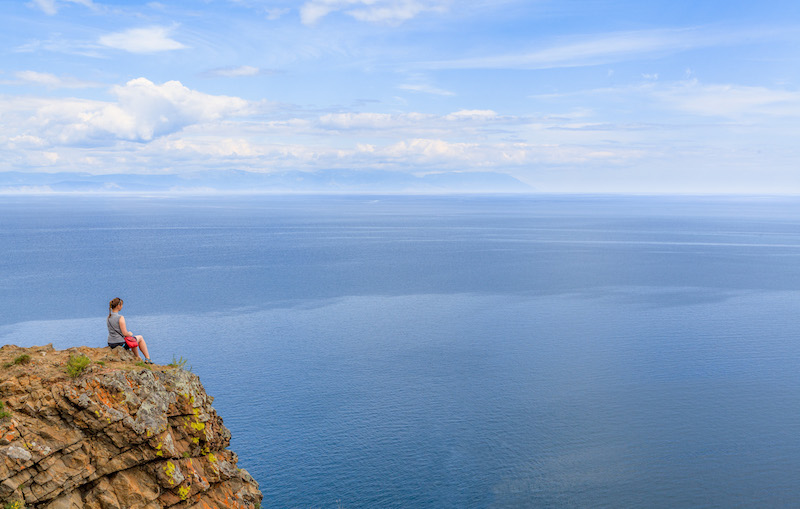 After a walk in the area of Mys Khoboy we had a lunch planned. It was prepared by Kolya – our guide and driver in one person. An endemic Baikal fish Omul barbecue grilled and served with vegetable salad and golden tea. All of this consumed on fresh air and we do not believe that the customers of 3-Michellin-Star restaurants can enjoy their food better than us.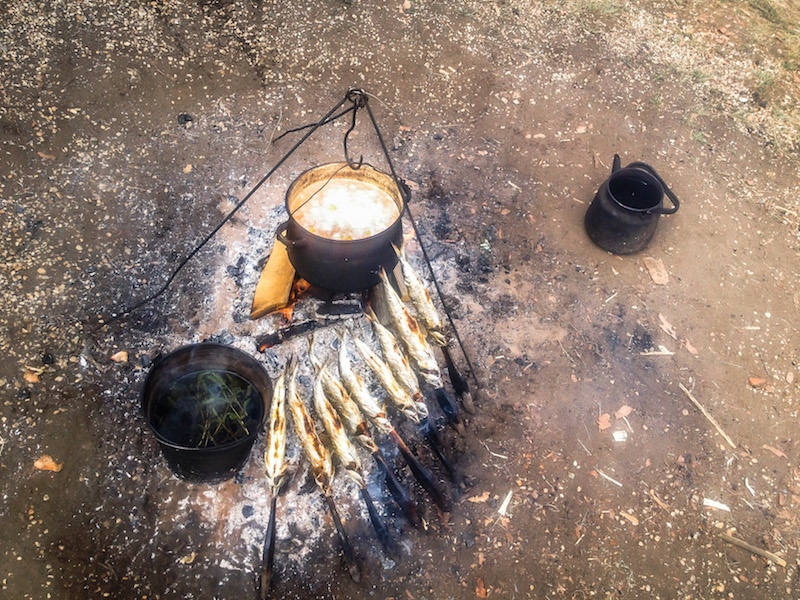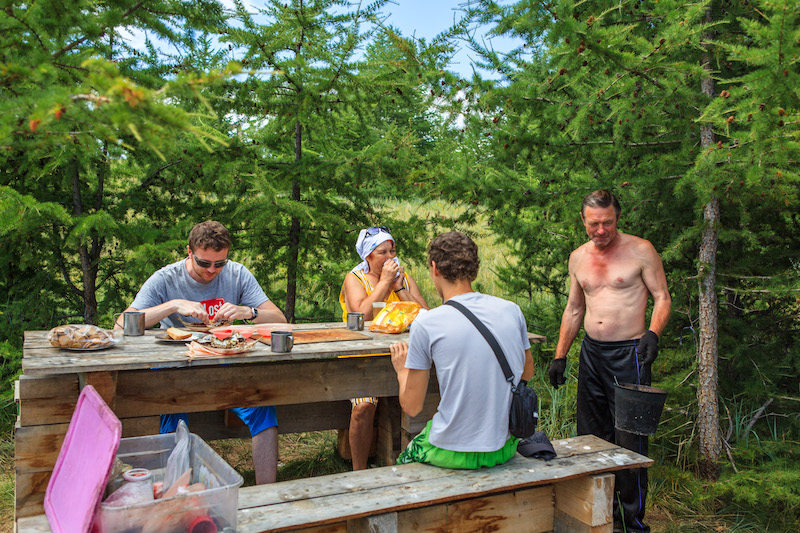 A reef with a characteristic name – Rock of love, a meteorological station Uzury, in sand hidden colony Peschanka – these were our stops on the way back to Khuzhir. We arrived exhausted and were glad to have a warm dinner and a soft bed.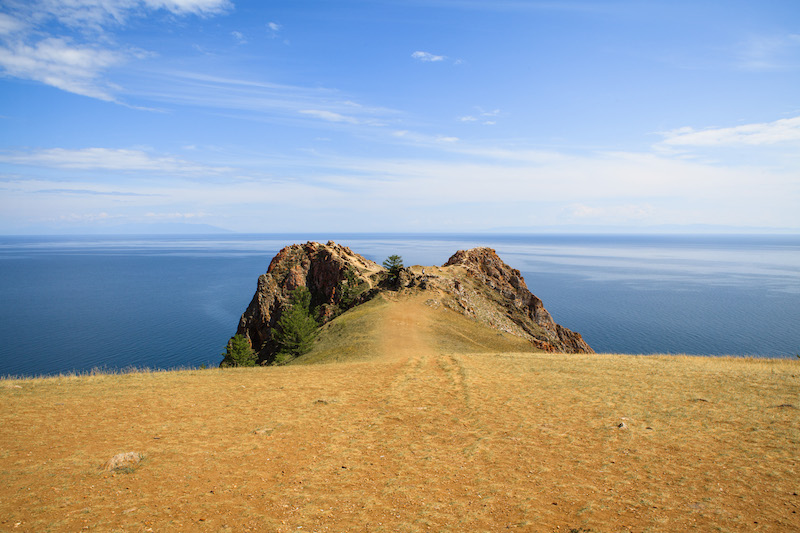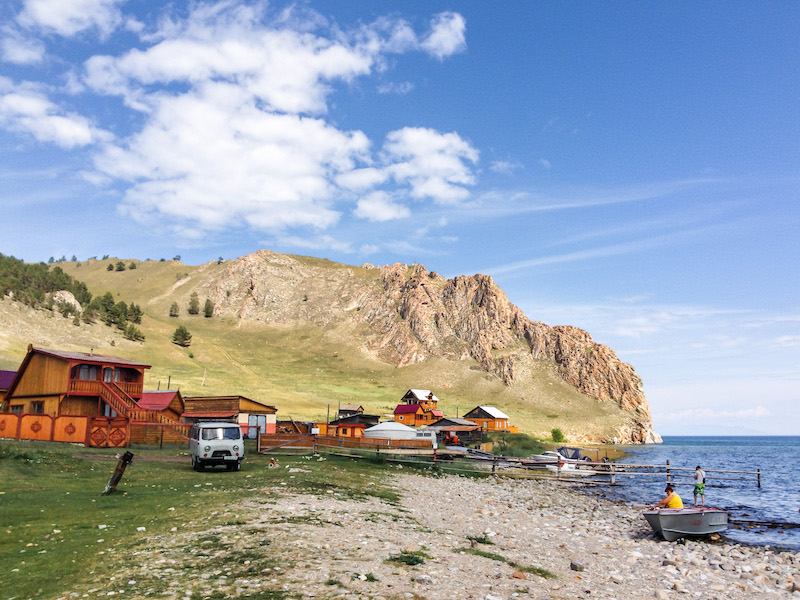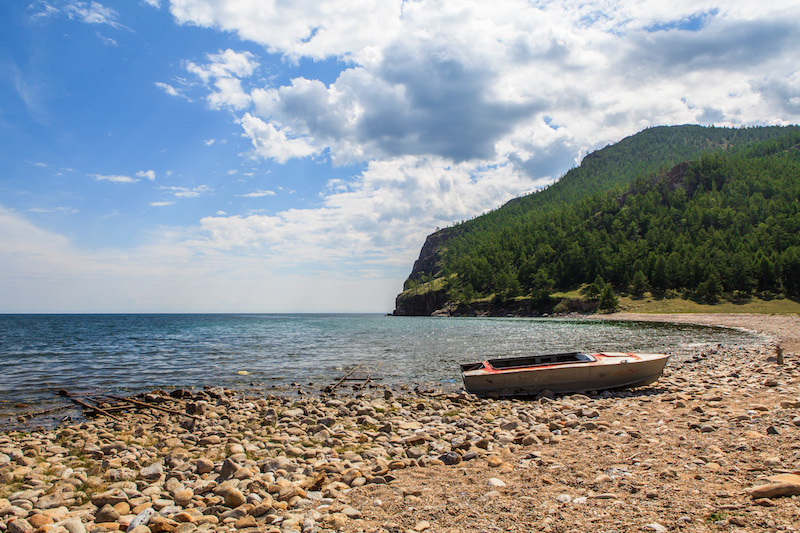 A boat trip in the surroundings of Olchon Island
We found interesting also the lake excursion. A good advice for the case you decide to go for it as well is to take all warm clothes you have with you. It anyway will not stop you from freezing. Waters of the Baikal Lake are extremely cold. Even in the summer the water temperature does not exceed 17 degrees. And so the breeze above the water surface is quite cold. And if you move about 20km/h above the water surface, this cold breeze turns into an ice cold wind. The temperature difference between the land and the lake can be dozens of degrees. It was anyway worth it to make a boat trip. Our guides were very nice, they were very well informed about the lake and its inhabitants and they were happy to share their knowledge with you.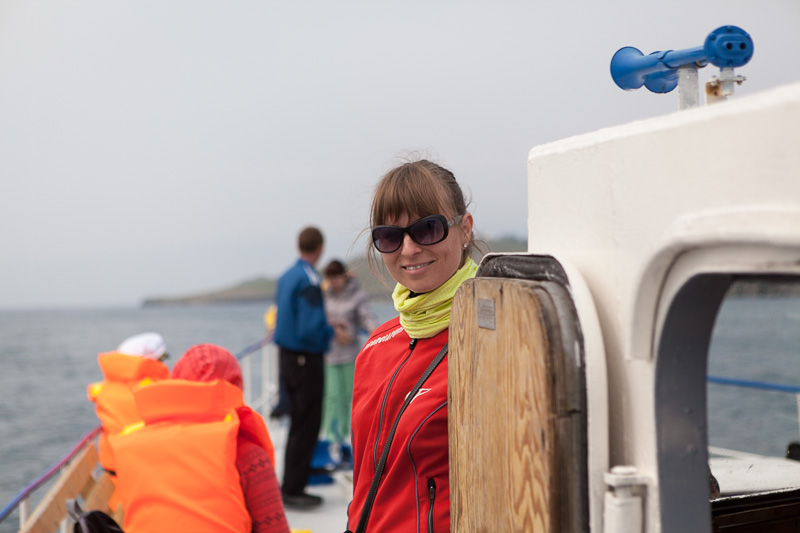 As already mentioned above, water in Baikal is very cold. The best time to jump in it is after a typical Russian sauna called "banya". The Russian sauna works basically in the same way as the Finnish sauna. Anyway, there are a couple of peculiarities. Apart from sweating, visit of Russian sauna includes also steaming and hitting oneself with a bunch of birch branches. No worries, it has nothing to do with the sado-masochism techniques. On the contrary. Russian sauna is very beneficial for one's health and if you know how to behave inside the sauna, it will for sure be a very pleasant experience. We tried the one in the back of the picture – build on the truck.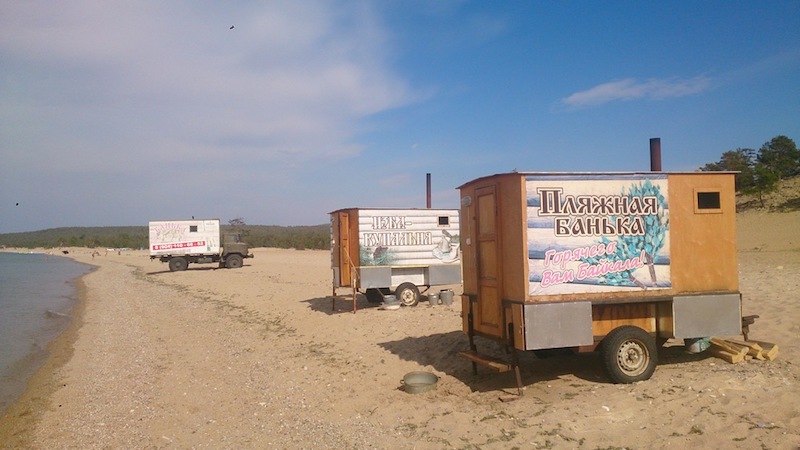 But back to bathing in Baikal. In Maloye more which is in fact a channel between the mainland and the Olkhon Island, is the mass of water quite isolated. Therefore the sun can heat it up to 19 degrees during the summer. To bathe in such water can be quite pleasant. However, everywhere else the water temperature does not exceed 13-14 degrees. It is still possible to bathe in this water, but I am afraid it is not as pleasant anymore. We anyway did it!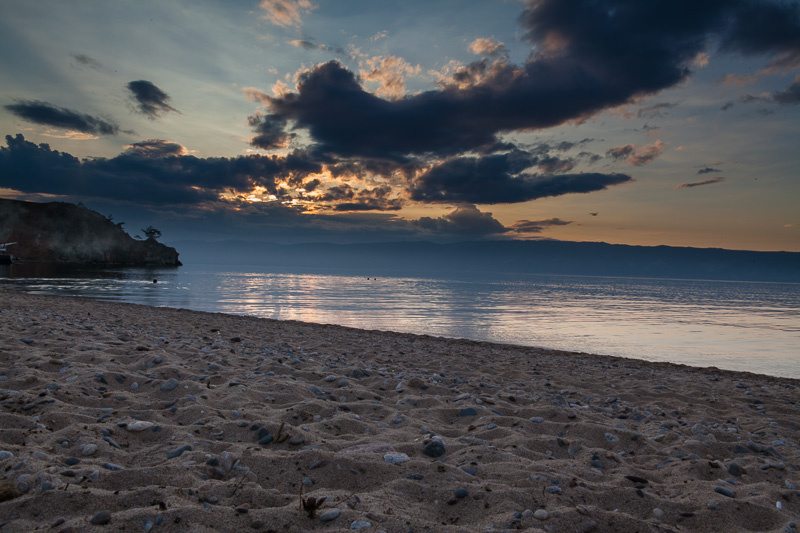 Peschannaya Bay
From the Olkhon Island we took a full powered motor vessel and headed to the south. Our next stop was the Peschannaya Bay. A picturesque corner far away from any civilisation where you can do anything from mountain hiking to having a rest on the beach. We got accommodated in a unique tourist lodge called Peschanka. It was built in the 50's and then the time has stopped on this place. Nothing has been ever renovated, nothing has changed.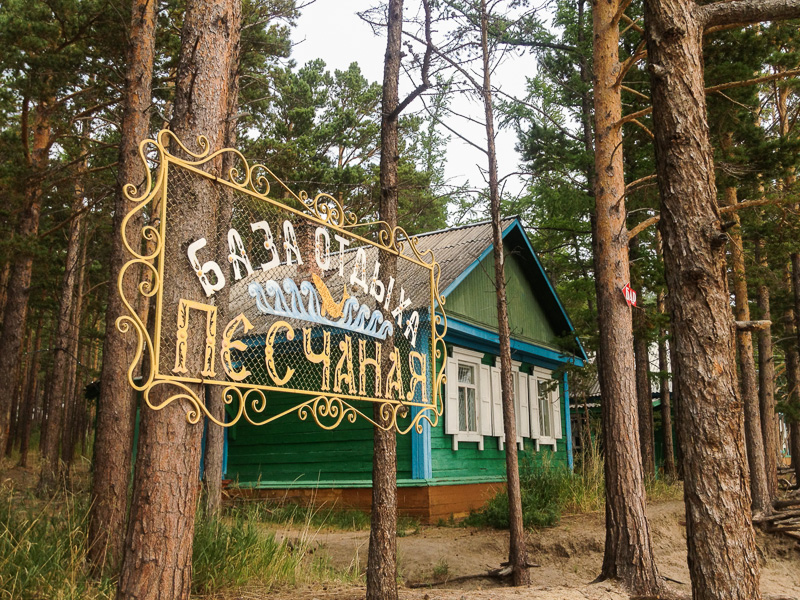 When you are on the beach you can listen to old soviet hits coming from loudspeakers placed on the canteen.
The toilets are outside – a long row of cabins, in each of them a round hole in the bottom. The door to our room was secured with a padlock. Inside the room there was a schedule of aggregate producing the electricity. In fact, that was also the shower schedule, since we could use shower only when the electricity was on. And in the old canteen the food was distributed by the young teenagers. Anyway the people here were very good-natured, helpful and open. And the nature here was beautiful and unique so that it could fully compensate the lack of comfort or civilisation conquests.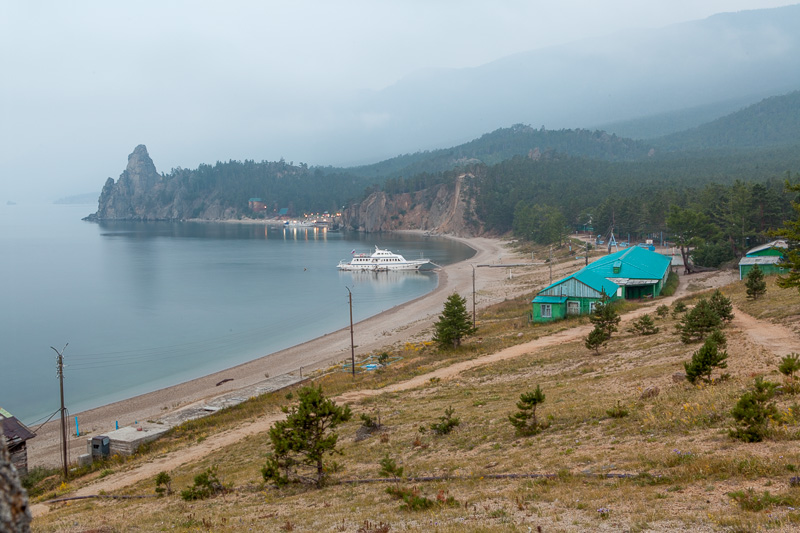 If you stand on the beach and observe the Peschannaya Bay, you can see that to one side it is bordered by Malaya kolokolnya (Small bellhouse), to the other by Bolshaya kolokolnya (Big bellhouse). The water in the bay is crystal clear. Its azure and the white sand on the beach reminded us of Caribbean.

Behind your back there are mountains rising and wild taiga is reaching everywhere you can see.

Location: south of the eastern Siberia
Area: 636 x 27-79 km
Water surface area: 31 722 km2
Deepest point: 1642 m
Age: 25 millions years
Average air temperatures in summer: 15 to 18 degrees Celsius
Average air temperatures in winter: -12 to -27 degrees Celsius
Average water temperatures in summer: 8 to 15 degrees Celsius (June to September)
Average water temperatures in winter: 0 degrees Celsius (during winter the whole water surfaces freezes)
Number of islands: 27, out of which 22 are stable and 5 are periodically flooded (the biggest island is Olkhon – 730 km2)
Pellucidity: 40 to 60 m
Coast: 2100 km
Volume: 23 615 km3= about 20% of all not frozen drinking water available on Earth
Number of inflowing rivers: 337
Number of outflowing rivers: 1 (Angara)