The preparation for our 5-month expedition, during which we wanted to drive our car to Gibraltar through Nordkapp, took a couple of weeks. We did not want to underestimate anything. We tried to foresee anything that could pop up during our trip. We thought of everything including the choice of clothing appropriate to each type of weather, supply of homemade specialties like speck and meat-sausages as well as battery jump cables. As we made progress with our preparations it had become clear to us that we would not be able to pack all those things in our estate car. We were aware before the expedition already that we were going to sleep in the car regularly. Unfortunately, our car was not inflatable and so we decided to solve the problem in a different way. We decided to buy roof racks and roof box.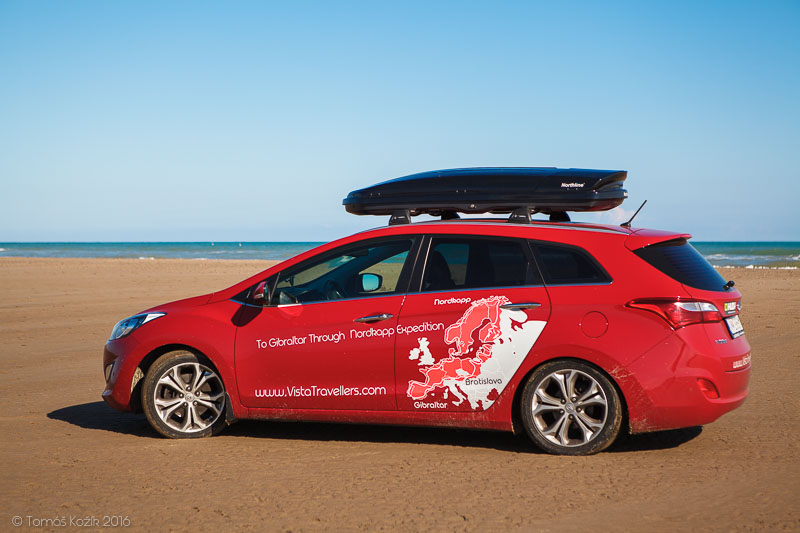 Before the expedition
At first we made a short internet research. We also identified a couple of shops nearby in order to have a chance to touch and test the products before we really buy them. We were lucky. We met the right people and found the right products in the first shop we visited. It was in SAMM Slovakia, s.r.o. in Ivanka pri Dunaji.
First of all we needed to find the right roof racks. The offer is huge. Since we planned to be 5 months on the road and to drive about 25 000 kilometers one of the most important choice criteria was noise in the interior of the car. Taking this into consideration we decided for the Whispbar roof racks. Thanks to their aerodynamic design similar to the one of an airplane wing we really could not notice that they were on our roof top. During the expedition we anyway had a couple of opportunities to experience how important the design of roof racks is. We met many cars with roof racks which design reminded us of scaffolding rails. Under the air pressure they produced very intensive and unpleasant whistle. We were sure that the crew inside the car "enjoyed" driving with these racks.
After we had the roof racks we could move on to the choice of roof box. Also here the offer is various and very big. Various producers offer roof boxes in various price categories, with various loading and carrying capacities and various features. It is not easy to gain an overview in the offer. We therefore appreciated the professional support of the shop owner who took care of us. He recommended us Northline's model Tirol Black . It is a roof box with a very misleading design. It looks quite small on the first sight. Additionally to that, it looks very decent and elegant when you place it on the roof top of your car. In fact, with this roof box we increased the load capacity of our car by more than 60%.
After the expedition
All of this happened in May 2016. In the meantime we drove 26 000 kilometers and spent 5 months on the road. Based on our own experience we can now evaluate whether our choice was right and to which extend the chosen products met our expectations.
Honestly, there is nothing we could additionally say to the Whispbar roof racks. Their installation is absolutely easy and can be done in a couple of minutes. Whispbar roof racks are unbelievably silent, elegant and reliable. Moreover, they are so perfectly designed that you do not have to uninstall them when you do not carry anything on your car roof top.
As for the roof box Northline Tirol Black, it confirmed that its design is completely misleading. It looks tiny, its capacity is however 330l with proportions 200cm length, 78cm width and 33cm height. It can carry up to 80kg of load. It is unbelievable what everything you can pack in it. Just have a look at what we carried in the box.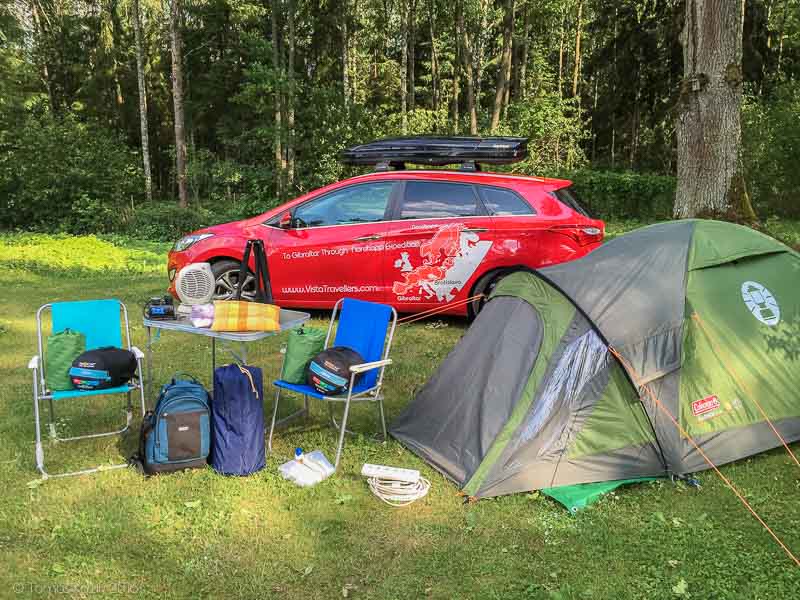 The size and proportions of the box are by far not its only advantages. We have to mention the feature that you can open the box from both sides. It is very practical and it made our life during the expedition so easy.

It is also very easy to lock the box. If you however overload it you might find yourself in a need of an additional pair of hands. That is at least what happened to us. Usually, we placed our sleeping bags on the top of the load in the box. When we wanted to lock the box, we had to push the air out of the sleeping bags by pushing the cover of the box in all three points of the 6-point-locking system. On the other hand, as soon as you locked the box, you could be sure that your load is completely secure.
The box proportions made our life on the road much easier. The overall height of the car including the roof box did not exceed 190cm. That was important not only on ferries where the ticket price depends on the height of the vehicle. It also helped us by parking the car in the shopping mall car parks or on the parking places next to the beaches.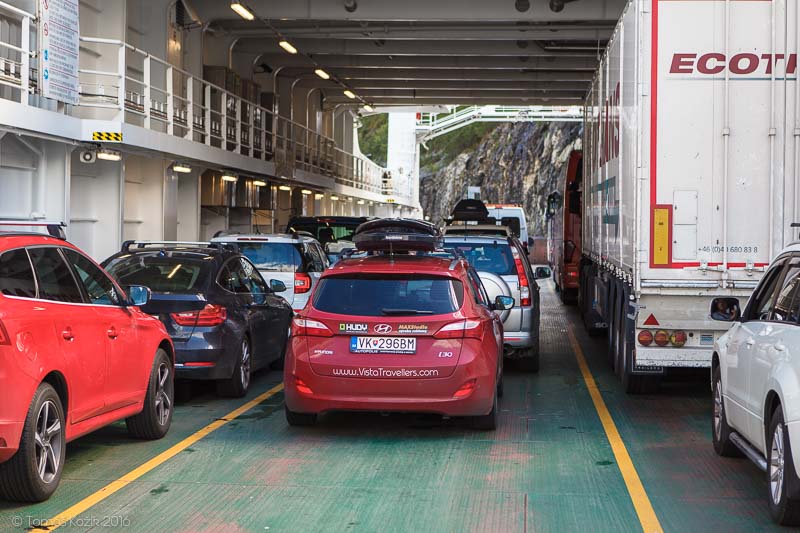 Prior to the expedition many people asked us whether we were aware that our consumption would increase due to the roof racks, roof box and a minor overload. Well, we were and we decided to accept it. During the expedition we monitored carefully our consumption and can say today that the consumption really increased. It however increased only by 0,1l – from 5,1l/100km to 5,2l/100km. Honestly? We have not expected such a minor increase. And so this result surprised us in a very pleasant way.
Conclusion
At the beginning many did not agree with us when we decided to take roof racks and roof box on such a long trip. Many have negative experience with such car equipment. This negative experience is related to the consumption increase, noise level increase in the car interior, risk increase that your stuff or the box itself could be stolen etc. Based on our own experience we can conclude that it is possible to eliminate all those risks and negative impacts by making the right choice of the equipment.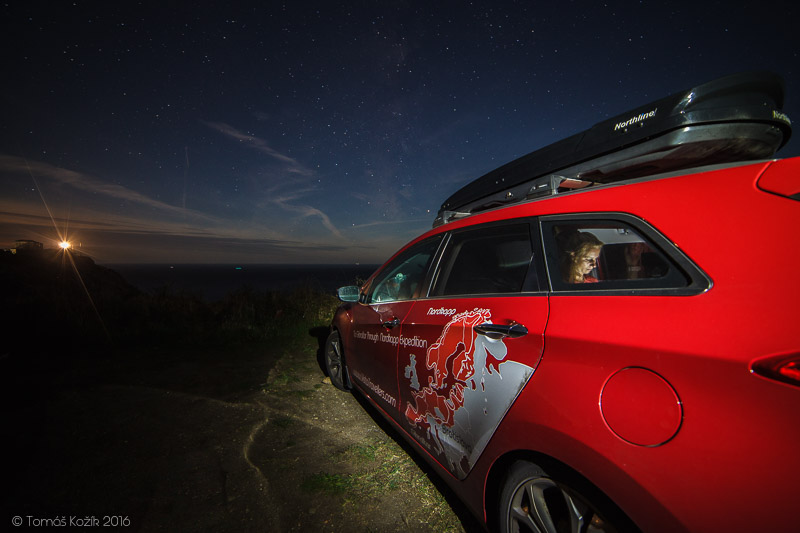 Expedition equipment
Expedition vehicle: Hyundai i30 kombi 1.6i CRDi HP 16V DOHC Style 94kW
Roof box: Northline Tirol Black
http://www.stresnenosice-boxy.sk/p/6962/northline-tirol-black
Roof racks: Whispbar S25+698
http://www.stresnenosice-boxy.sk/p/5298/stresne-nosice-hyundai-i30-cw-integrovane-lyziny-s25-698
We would like to express our gratitude to Mr. Marián Grescho from SAMM Slovakia, s.r.o. for his professional support and good advice.